Treating babies with Biodynamic Craniosacral Therapy is something I feel particularly passionate about.
What may take years to resolve as an adult, can often be treated in just 2-3 sessions of Craniosacral Therapy as a baby – without all that time of being affected in between.
It is also a special gift to see a baby 'come alive' and start living their full potential, a very good start at the least. This can have far reaching benefits, not just for the baby or child, it can free up the whole family to enjoy this special time together too.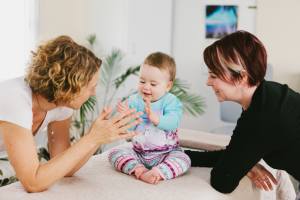 My Craniosacral contact  is particularly gentle and I typically only need to see babies for 3 treatments. Other family members are often included as part of this important unit so the therapy time can support the whole family.
Treating children is a passion of mine and, with my years of experience in the early childhood sector, I am often able to put the child at ease and really help. Autism is a particular area of interest and I have seen some wonderful results here which, in turn, benefit the whole family unit.
Some of the conditions that have responded well to how I treat include
colic, feeding or swallowing problems
sleep issues
unsettled, excessive crying, limp/not 'present'
looking 50 years older than they are
twisted neck/spine/pelvis, unusual head shape (e.g. after forceps, ventouse, emergency c-section or sleeping positions).
learning difficulties, dyslexia, autism spectrum,
stress, headaches, emotional issues
The Pacific Association of Craniosacral Therapists (PACT) lists the following as some of the wide range of conditions that may respond favourably to Craniosacral Therapy:
Allergies
Asthma
Birth trauma
Cerebal Palsy
Dental/jaw/TMJ problems
Digestive issues
Hyperactivity